We connect, inspire and guide women in computing and organizations that view technology innovation as a strategic imperative. The AnitaB.org staff and board are made up of people who are passionate about what women and non-binary individuals can bring to technology. We understand their needs and have worked inside organizations that view technology innovation as an imperative. Our community extends around the world, driven by the belief that we can accomplish more together than any of us can alone.

Chief Executive Officer
Brenda Darden Wilkerson
President and CEO
Brenda Darden Wilkerson is an advocate for access, opportunity, and social justice for underrepresented communities in technology. She currently serves as the President and CEO of AnitaB.org, an organization that connects, inspires, and strives for greater equality for women technologists in business, academia, and government. She founded the original Computer Science for All program, building computer science classes into the curriculum for every student in the Chicago Public Schools, and serving as the inspiration for the Obama administration's national CS For All initiatives.

Brenda was named to the 2023 Forbes 50 Over 50 list for Impact. The third annual list is a collection of founders, innovators, and creators and is divided into four broad categories – Innovation, Impact, Investment, and Lifestyle. The women on the 50 Over 50 Impact list are leading the charge for a better world. See her profile here.
Executive Team
Amanda Hill-Attkisson
Amanda Hill-Attkisson
Vice President, Programs
Amanda Hill-Attkisson currently serves as Vice President, Programs at AnitaB.org. As an innovative leader with more than 15 years' experience and expertise of developing strategic initiatives from ground to execution, she oversees the operation and implementation of Programs which includes Global Events, Membership, Workforce Advancement, and Policy & Advocacy program areas to advance the mission of AnitaB.org. 
With her background in nonprofit management of social justice entities in the South, including women's empowerment, LGBTQ equality and civic engagement, Amanda is a passionate advocate, skilled organizer, and effective communicator for women and nonbinary/LGBTQ+  leadership initiatives.  In a previous life, Amanda worked as an electrical design engineer for NASA in Kennedy Space Center, Florida. more recently served as the Global Program Innovation Director for Women Who Code. She holds a Bachelor of Science in Electrical Engineering from Georgia Institute of Technology and a Bachelor of Science in Psychology from Georgia State University. She lives in Atlanta with her wife of 25 years and their daughter, the cat whisperer. 
I recognize AnitaB.org as a powerful agent for change providing incredible opportunities and programming to advance and elevate women and nonbinary technologists worldwide to their highest potential. I am committed and thrilled to lead in this work. 
Education: 
Georgia Tech: Bachelor of Science, Electrical Engineering; BS EE Co-operative Certificate 
Georgia State University: Bachelor of Science, Psychology 
Carmen S. Edwards
Carmen S. Edwards
Vice President, People and Culture
Cullen White
Cullen White
Chief Impact Officer
Cullen currently serves as Chief Impact Officer at AnitaB.org, following stints as Chief Operating Officer and Chief of Staff. Cullen been a member of the organization since February 2019 when he originally joined as Director of Strategic Alliances. Prior to joining AnitaB.org, Cullen served as the Managing Director of Computer Science for Teach For America. In that role, Cullen helped teachers, school leaders, and community stakeholders from across TFA's 51 regions build capacity for designing and implementing culturally responsive PK-12 CS education programs. Before making the leap to non-profit life, Cullen served as the Supervisor of Information Technology Programs for Prince George's County Public Schools in Maryland and spent several years in the classroom teaching Spanish, Social Studies, and Computer Science courses. 

Jenny Anderson-Frasier
Jenny Anderson-Frasier
VP, Business Development Customer Success (BDCS)
Jenny Anderson-Frasier currently serves as Vice President, Business Development Customer Success (BDCS) at AnitaB.org. A self-proclaimed B2B sales success story, Jenny grew up in generational poverty and faced the difficult decision to delay a college education due to familial obligations. But it was during this journey that she honed her talent for sales which led to successful sales and leadership roles in companies across retail, service, and tech sectors, including Fortune 50, Inc. 5000, and hyper-scale unicorns like ADP, DataRobot and IBM.
Her personal and professional passions include DEI and advocating for women in the field of tech, in line with her mantra of "Do the most good; make the most impact." On top of her successful sales career, Jenny decided to return to her academic path to earn a college degree, enrolling at Boise State. In 2021, while at Boise State, her response to an assignment led to founding Maggie, an organization that trains women for tech sales while offering mentorship, interview preparation, and placement assistance that is free to all students, unlike most other bootcamps. Maggie is the only woman-focused and woman-founded SaaS sales bootcamp available.
When not advocating for women in tech, you can find Jenny adventuring all over the US while traveling full-time with her husband and three children in their fifth wheel. When not traveling, she calls Middle Tennessee home while maintaining deep roots in Boise, Idaho.
Jerome Edwards
Jerome Edwards
Chief Technology Officer
Jerome is a highly regarded expert building Product Development, Delivery, & IT teams. Jerome has more than 27 years of leadership experience in all facets of Product Development, Technology Operations, & Delivery. As a top performing executive, manager, and consultant, he's been an instrumental part for rapid growth companies: Asera, Kana, Biz360, Agile Software, ServiceSource, Axiom, SonicWords, Symphony Talent, Wolters Kluwer, Biome Analytics, Splunk, Uptake, and IRIS.  
Jerome is based in the San Francisco Bay Area, where he joyfully raises his twin daughters and enjoys the larger community.  He is a graduate of Fisk University and has zero presence on social media, personally or professionally, to ensure complete and total confidentiality.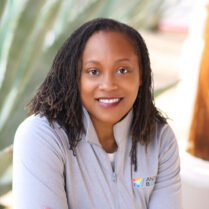 Jullanar Maalik-Naselli
Jullanar Maalik-Naselli
Chief of Staff
Jullanar comes to us with a decade of senior leadership, organizational development, and strategic strength.  She holds a doctorate in Education and Administration.  Starting her career as a technologist, she then moved into education, and then education leadership.  She brings a wealth of organization and relationship management experience to this role. 
Pamela Gibbs
Pamela Gibbs
Chief Product Officer
Pamela is a computer scientist and researcher, whose experience spans across government, retail/e-commerce, finance/fintech and Big Tech. She holds a Doctoral of Science in Information and Interaction Design from the University of Baltimore and an MBA, with dual undergraduate degrees in International Business and Marketing from Penn State University. She is a board member of Hosts for Humanity and was previously on Board of Trustees for AnitaB.org. Her mission is simple, to leave the world a better place than when she entered it.
Pamela Lee
Pamela Lee
VP, Finance & Legal
Pamela Lee currently serves as Vice President, Finance & Legal at AnitaB.org. As a CPA with more than 15 years of experience in the nonprofit industry, Pamela has become an expert in identifying opportunities to improve revenue and profit and implement changes to achieve impactful results. Over the course of her career, she has been responsible for department reorganization and improvements, multiple software implementations, development of short- and long-term business planning, budgeting, cash flow modeling, and financial reporting.
Prior to joining AnitaB.org, Pamela served as the Chief Financial Officer at Habitat for Humanity of Pinellas and West Pasco Counties. In that role, Pamela worked closely with leadership to ensure the growth and financial stability needed to serve more families and increase access to affordable homeownership in her community.
Outside of the office, Pamela enjoys participating in triathlons and ultra running. She currently resides in Tampa, FL with her husband, three cats, and a dog.
Puja Issar
Puja Issar
Managing Director, India
Puja Issar currently serves as Managing Director at AnitaB.org India and is engaged and committed to driving efforts to advance the mission of AnitaB.org India. 
An accomplished result-driven senior executive with proven ability to evaluate, identify and execute meaningful business in Wealth Management, Financial Services, Investment Banking and Development sector across UK, South Africa, Middle East and India. Skilled, imaginative, and analytical, she has an excellent track record in strategic initiatives and developing and implementing value creating business plans. Her vast experience across continents makes her attuned to cultural diversity, making her management approaches across national and international businesses more meaningful. She has established credibility at senior levels of government and corporate bodies and is a transformative leader. 
Ty Beckmann
Ty Beckmann
Chief Revenue Officer
With over 19 years of experience in the technology industry, most recently with Apple, Ty has pushed boundaries and leveraged emerging trends to drive innovation. Throughout his career, he has successfully led business development teams, establishing strategic partnerships, and driving revenue growth. Ty is passionate about education and women's advocacy and has actively championed initiatives to promote equal opportunities and empower underrepresented groups in the tech field.
Ty holds an MBA and is currently pursuing a Masters in Analytics to further deepen his expertise in data-driven decision making and harness the power of analytics for organizational success.
Ty currently resides in Chicago with his family.